I went to North Hollywood and met Anthony White, he of Las Vegas. I didn't realize anyone actually lived in Vegas, as I thought that it was one big casino. I was wrong, as Ant had actually done local records there with some skinny, talented kid name Mark Slaughter. And they had played Jerry Lewis' Telethon.
I was impressed and jealous. Still am.
We didn't really get a band going after that first meeting, but what we did find that we loved the Beatles and playing music together. During the next year, three more bands were added to the "Scrapheap List". This time however, some demos actually got recorded. I had learned, after all.
In the fall of 1988, Anthony asked me to come down and audition for his latest venture, FERRARI. Guitarist Marc Ferrari had left KEEL and wandered off on his own to get a new deal the year before.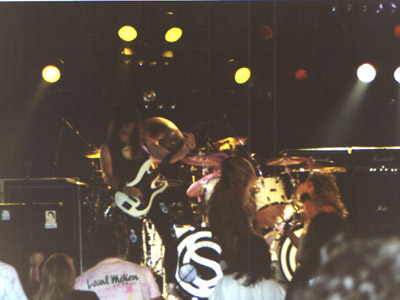 Marc's excursion wasn't as impressive then as it is now. It is tough enough to get one deal, much less two I eventually learned. But after some intensive rehearsals with the band, we played before a packed Hollywood Palace in very early 1989. We were opening for the BulletBoys, and I distinctly remember Wendy Dio, my future manager, telling me "Good Luck! This is your real audition! I hope you pass!"
Wow.
We got the deal that night, and immediately went into pre-production with Kevin "Not For The Squeamish" Beamish. On the day we were to sign our label deal with MCA, our then-singer Oni Logan quit to join the Lynch Mob.
Yikes.
Slightly subdued, we spent the next six months looking for a replacement, luckily not losing our deal, management or producer in the process. Roy Cathey arrived, deftly convinced us that he was the right man
for the job, and who we convinced to change his name to Rory. We did one gig, some re-production, changed the band name to COLD SWEAT and went into the studio we went to record BREAKOUT in the fall of 1989.
BREAKOUT was released in June of 1990 and we toured our asses off that summer to promote it. Almost instantly it went lead with an anchor! How proud we were. You couldn't find the thing in the U.S. record stores, and as we opened for Savatage, the Sleez Beez, and eventually DIO, it became evident that during the fall of 1990, we were doomed. Imagine our chagrin.
After playing a November gig (co-headlining with local heroes Child's Play) at the Bayou in D.C., Wendy Dio called us that morning with two bits of news: good and bad.
The Good? MTV had just added our video.
The Bad? MCA has dropped you.
Time to load up and start over.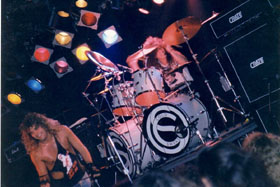 We went back to L.A., wrote new tunes, shopped them, got some interest from some labels, foolishly ignored it, fought internally, and ended up losing Marc and gaining another guitarist in Billy D'Vette. That line-up lasted about four more months before implosion brought it all down.
All the while, bits of COLD SWEAT and other L.A. bands had been playing in a little side outfit called COLD GIN.